The NHL 14 video game (released last year), which is authorized by the NHL, has "Fight Night Technology," depicted in the photo below.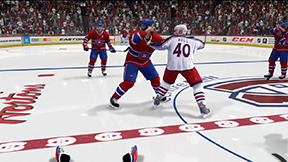 According to EA Sports' website the "Enforcer Engine" in the game "offers the most authentic and exhilarating hockey fighting experience ever."
Videos
Mike Milbury On Why Fighting Should be Banned in the NHL
Suffering in Silence: NHL concussion issue
These days, nothing seems to get crowds worked up like a good, old-fashioned hockey fight. But with the recent deaths of three current and former enforcers, there is a shadow over the NHL and the issue of fighting in hockey has become impossible to ignore.
The BIGGEST Hits Ever Seen from the NHL (HD)
Hits on body checks throughout most of the history of the NHL - not all of these are your textbook body checks.
NHL's worst cheap shots
Some of the NHL's worst cheap shots in the last couple of years.
Top 10 Biggest NHL Hockey Hits of All Time
This is a video of the Top 10 hardest NHL hockey hits ever.